Art Deco Opalescent Salver entitled Sirène by René Lalique circa 1930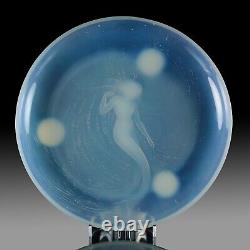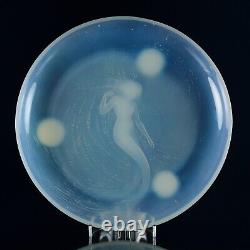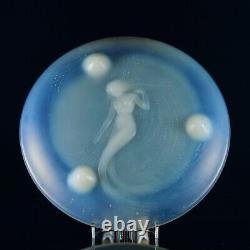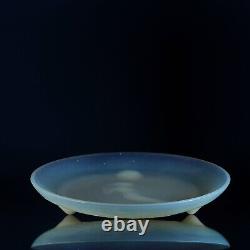 An exceptional frosted glass salver with raised deep opalescent design of a beautiful mermaid in a swirling watery landscape, the three large bubbles around her protruding from the underside to act as feet, signed R Lalique. Lalique France moulded in relief. Felix Marcilhac Catalogue Raisonné Page 290. Materials: Frosted and Opalescent Glass. Lalique - Catalogue Raisonné by Felix Marcilhac. 1860 Birth of René Lalique. René Lalique was born in A -en-Champagne in the Marne region of France. Some years later, the Lalique family moved to Paris but continued to spend holidays in A. René remained deeply attached to his birthplace throughout his life. 1885 The first Parisian workshop. Following the death of his father, René became an apprentice to craftsman and jeweller Louis Aucoc. It was during this time that he learned jewellery-making techniques, while attending classes at the École des Arts Décoratifs in Paris. He then left for England where he continued his studies for two more years. In 1885, after gaining recognition as an independent designer for some of the great jewellery Houses such as Jacta, Cartier and Boucheron, René Lalique took over the workshop of jeweller Jules Destape on Place Gaillon in Paris. At the time, I didn't know of any jewellery designers and at last, here we have one! Alphonse Fouquet, a prominent 19th-century Parisian jeweller. 1888 First ornaments inspired by Antiquity and Japonism. In 1887, Lalique set up business on Rue du Quatre-Septembre. As early as 1888 he designed his first parures in finely-wrought gold inspired by Antiquity and Japonism, and broke with jewellery-making tradition by including innovative materials in his pieces. At the time, originality and creativity had been abandoned in favour of ornate and lavish styles with an abundance of precious stones. He made the materials he used central to his designs. He chose them for their power, light and colour, whether they were precious or not. He combined gold and gemstones with semi-precious stones, mother-of-pearl, ivory and horn, in addition to enamel and glass. In 1888, René Lalique registered his "RL" stamp and engraved the unique pieces created in his workshop with these letters. For a number of years he concentrated exclusively on fine jewellery, on bright and lustrous parures sparkling with diamonds.
Henri Vever, French jeweller, author and collector. 1890 The transition from jewellery to enamel and glass. René Lalique's work had gained wide-spread popularity.
He now opened his third workshop at 20, Rue Thérèse in Paris. His first experiments and designs using glass date from this era. René already used enamel and glass, side-by-side with gold, opals, diamonds, pearls or amethysts, to embellish his jewellery. 1900 The Paris Exposition Universelle. Over the next decade, René Lalique forged his reputation.
He won competitions, exhibited his work and created jewellery for well-known entertainers such as actress Sarah Bernhardt. His desire to "create something that had never been seen before" earned him the accolade of "inventor of modern jewellery".
He revolutionised jewellery styles of the period, becoming a favourite with leading socialites, and was admired by the most distinguished of his fellow-jewellers. His work was commissioned by the great courts and collected by the world's wealthy. So when René Lalique took part in the 1900 Great Exhibition in Paris, it was the crowning moment of René Lalique's career as a jeweller.
It was that same year he was also named Officer of the French Legion d'Honneur. He designed and crafted jewellery for leading actresses [.] he sought out striking shapes and colours and unusual designs to decorate a headpiece for the character of Théodora. Gustave Geffroy, French journalist, art critic, historian and novelist. 1907 The start of a partnership with François Coty.
In 1905 René Lalique opened a shop at 24, Place Vendôme, where he exhibited not only his jewellery but also the glass objects crafted in his workshop at his estate in Clairefontaine, near Rambouillet. Perfumer François Coty was so impressed by René's designs that he asked him to put his talent to work for the perfume industry. Their work together revolutionised the perfume industry and made it possible for the first time to offer perfumes in attractive bottles at affordable prices. From then on, René worked increasingly on designs for the perfume sector, finally devoting himself entirely to more industrial techniques of glass production. René Lalique, Art Nouveau master jeweller, was to become an Art Deco master glassmaker. 1921 Founding the Alsace glassworks. René had now devoted himself to glassmaking for several years. His quest for a suitable location to produce glassware and a qualified workforce led him to Alsace. He founded the Verrerie d'Alsace glassworks at Wingen-sur-Moder in Alsace, at the heart of a region with a strong and historic glassmaking tradition. This is now the world's only Lalique factory. 1925 International Exposition of Modern Industrial and Decorative Arts. René Lalique participated in numerous architectural projects. The 1925 International Exposition of Modern Industrial and Decorative Arts in Paris marked the climax of René's career as glassmaker, and a triumph for the Art Deco movement. His techniques with glass gave rise to a style that was essentially expressed through the contrast between clear and frosted glass.
He sometimes added a patina or enamel or used stained glass. Glass is a marvellous material. 1929 Decorating the Côte d'Azur Pullman Express train. When luxury was involved, René Lalique's name was right alongside.
He was inundated with commissions and undertook some large-scale interior design projects. René was chosen to undertake the decoration of the Côte d'Azur Pullman Express carriages. 1935 Fitting out the Normandie luxury liner. René Lalique was commissioned for a series of high-profile projects. These included decorating the famous fashion designer Madeleine Vionnet's haute couture salons, designing glass doors for Prince Yasuhiko Asaka's residence in Tokyo and creating the fountain which for a time decorated the Galerie des Champs-Elysées in Paris.
He then participated in the interior design of the vast first-class dining room of the luxury liner Normandie. He designed lighting columns and chandeliers for this colossus of the seas. 1935 was also the year in which René Lalique opened his shop at 11 Rue Royale in Paris.
1945 Death of René Lalique. After the death of René Lalique. His son Marc took over as head of the business. He was to bring Lalique into the age of crystal. Established in 1936, Hickmet Fine Arts is an international family run business and one of the world's most important dealers in original Art Deco and Art Nouveau Antique Sculpture and Art Glass.
We are located at Gallery 85 on London's famous Portobello Road where we offer a fine range of sculpture, glass and works of art from the 19th and 20th Centuries by the most famous sculptors and artists from this period. This item is in the category "Pottery, Ceramics & Glass\Decorative Pottery, Ceramics & Glass\Vases". The seller is "hickmetfinearts" and is located in this country: GB. This item can be shipped worldwide.
Style: Art Deco
Year Manufactured: 1930
Brand: Lalique
Origin: French
Type: Salver
Signed By: Rene Lalique
Theme: Art
Material: Glass
Colour: Opalescent