Scailmont Belgium Art Deco Glass Marbled Opaline Ornament Bowl Vase H. Heemskerk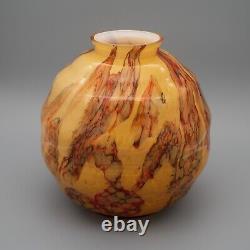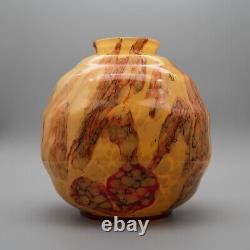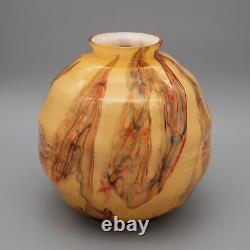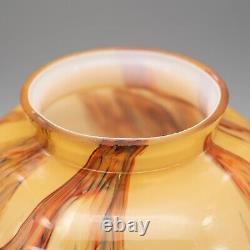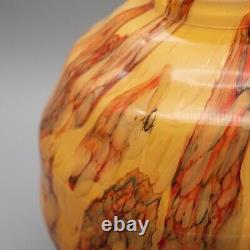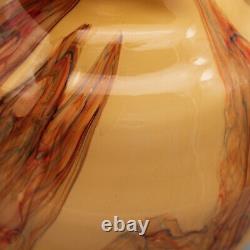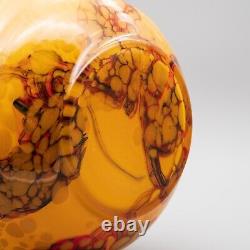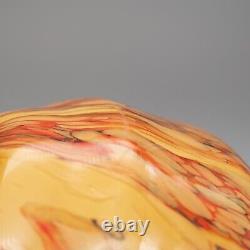 In the vibrant world of Art Deco design, the Decorative Art Déco vase crafted by Henri Heemskerk and brought to life by Verreries De Scailmon in the 1930s stands as a testament to the era's unparalleled elegance and creativity. This exquisite vase, boasting a classic Art Deco shape, captures the essence of a bygone era and epitomizes the allure of Art Deco's geometric forms and bold colors. Impeccably crafted from pressed Liathin glass, the vase showcases a captivating interplay of pale yellow and honey tones, evoking a sense of warmth and sophistication. The surface of the vase exhibits intriguing abstract reliefs, which serve as a nod to the avant-garde influences that permeated the Art Deco movement. A touch of opulence graces the vase's opening, originally adorned with a brass grille, adding a shimmering embellishment that complements its understated allure. Preserved in very good undamaged condition, this vase is a remarkable find for any collector or connoisseur of decorative glass. As with any object that bears the beauty of time, one may encounter slight traces of age and use.
However, these only lend character and authenticity to the vase, reminding us of its rich history and the countless tales it might hold. The story of Verreries De Scailmon, founded by H. Hirsch in 1901, unfolds with a blend of creativity and innovation that propelled the company to the forefront of non-crystal decorative glass manufacturing. In 1908, Georges Sacré took the reins as the new director, and a pivotal moment occurred in 1924 when the talented Henri Heemskerk assumed the role of chief designer. Under Heemskerk's visionary guidance, Scailmont glassworks embarked on a creative journey that spanned almost three decades until 1951.
Heemskerk's designs, boasting both art nouveau and art deco elements, graced numerous moulded and satin-finish vases, becoming a symbol of the era's artistic triumph. Their success amplified following the Paris Exposition of 1925, when Charles Catteau's acclaim elevated the popularity of their products.
At its peak in 1930, S. Verrerie de Scailmont employed a thriving workforce of 800 people, a testament to the company's impact and influence on the world of decorative glass. One cannot overlook the intricate details of Heemskerk and Catteau's designs, characterized by satin-etched decors, cut-to-clear elements, and artfully executed pressed glass blanks. Evidence also suggests their supply of blank glass items to various acclaimed decor-studios in the'Region du Centre,' further illustrating the interconnectedness of artistic endeavors during that era. In conclusion, this Decorative Art Déco vase, a captivating product of Henri Heemskerk's artistic prowess and Verreries De Scailmon's dedication, presents an opportunity to own a piece of history, an exquisite memento of an era that celebrated beauty and innovation. Embodying the essence of Art Deco's splendor, this vase serves as an artistic time capsule, a treasured addition to any collection, and a poignant reminder of the ingenuity that once shaped the world of decorative glass. Check out my profile for much more retro items and vintage fashion as for designer goods.
Questions are welcome and will be answered ASAP. I try to describe all the items as accurately and as honestly as possible, and I always include photos of the actual items. Vintage or pre-owned items will often show some signs of wear due to their age, and there may be something I overlooked. Any condition outside normal vintage wear, like chips or cracks or serious defaults, will be noted and/or clearly visible on the photos.
Bitte schauen Sie meine weitere Artikeln im Profil an, für viel mehr Designer und Vintage Damen und Herren Mode sowie Objekte. Fotos sind Teil der Beschreibung. Fragen werden gerne und meistens schnell beantwortet.
Der Markenname dient nur zur Artikelidentifikation. Aufgrund des neuen EU-Rechts gelten folgende Bedingungen.
Der Verkauf erfolgt unter Ausschluss jeglicher Gewährleistung, Garantie, Rücknahme und Sachmangelhaftung. Gemäß § 447 BGB gilt, das mit Übergabe an den Versand die Gefahr auf den Käufer übergeht.